When it comes to environmental testing, there are two primary solutions available: Benchtop and Walk-in chambers. While both options have their advantages and disadvantages, a comparative analysis of the two is necessary for determining which solution best suits the specific needs of an individual or organization.
In this article, we will provide a comprehensive comparative analysis between Benchtop and Walk-in Environmental Chambers to assist in making an informed decision about which option is right for your application. We will examine the various factors that influence selection including cost, functionality, specifications & capabilities as well as ease of use.
With our thorough evaluation, you can make sure you get the most out of your environmental testing solution!
Cost Comparison
When shopping for an environmental chamber, cost should be a major factor in the decision-making process. Benchtop chambers are typically smaller and more affordable than walk-in chambers, making them ideal for small businesses and labs on a tight budget.
They can range from several hundred dollars to over $10,000 depending on size and features. Walk-in chambers tend to be much larger and offer more advanced features such as higher temperature ranges or humidity control capabilities, often costing up to five times as much as their benchtop counterpart.
The total cost of ownership must also be taken into consideration when comparing the two types of chambers: walk-ins require far higher installation costs due to their large size whereas benchtops are generally plug-and-play with minimal setup time needed. Ultimately it depends on both your needs and your budget which will determine which type of chamber better suits you – either way, it pays off to do your research before investing!
Temperature Control Capabilities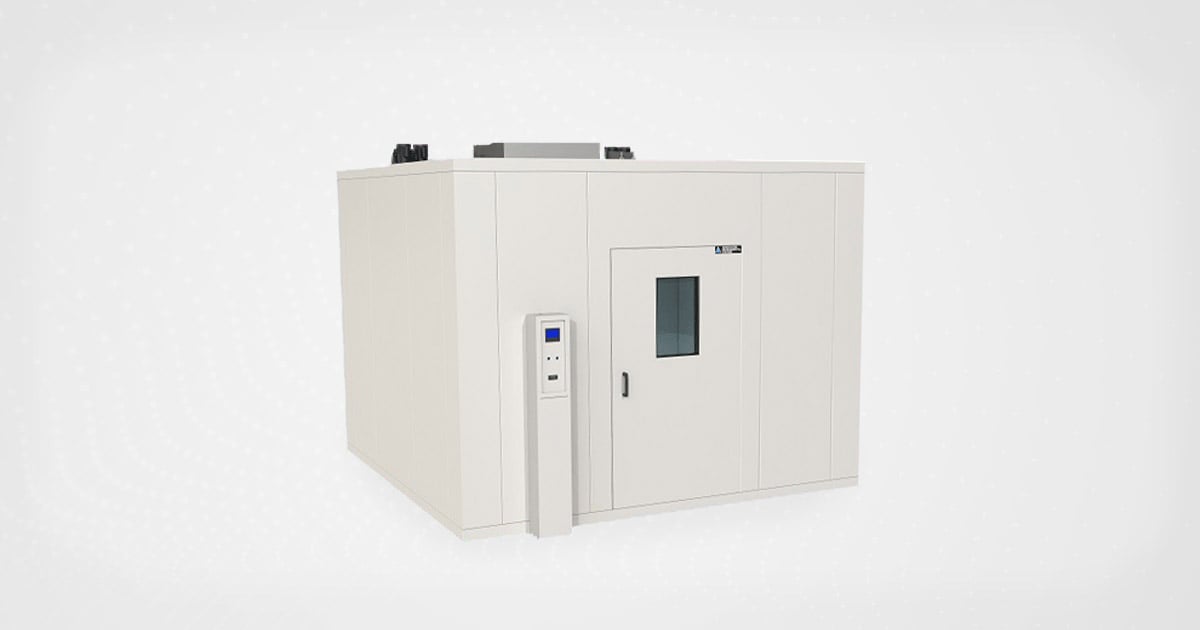 When it comes to temperature control capabilities, benchtop environmental chambers are ideal for applications that require precision and accuracy. These chambers offer a range of features such as airflow control, humidity levels, temperature stability, and cycle repeatability.
Compared to walk-in environmental chambers with larger volume capacity but limited flexibility in terms of controlling each parameter of the environment, benchtop models provide greater control over a wide range of temperatures. As a result, they are more suitable when used for experiments or tests that require precise temperatures within certain ranges.
Additionally, newer technology can provide even better results with automated settings and programming modes designed to monitor and maintain specific parameters throughout an entire process or experiment. This makes benchtops well suited for exacting requirements such as drug testing where reliable yet highly accurate conditions must be maintained consistently over time.
Humidity Management Features
When it comes to humidity management, both benchtop and walk-in environmental chambers offer a variety of features. Benchtop units are designed for convenience, with easy access to the interior chamber and adjustable humidity settings that can be adjusted as needed.
Walk-in environmental chambers have more sophisticated systems that allow for precise control over temperature and humidity levels in large rooms or warehouses. With these systems, users can set specific parameters such as dew point, relative humidity thresholds, or air velocity tolerances.
Both types of systems come with programmable controllers to provide automated operation according to user-defined conditions and settings. Additionally, they can be equipped with alarms that will alert personnel when certain conditions exceed pre-determined limits.
Humidity management is an important aspect of any laboratory environment – whether using a benchtop unit or a walk-in chamber – so knowing what features are available is essential for achieving optimal results from your experiments.
Safety Features and Maintenance Requirements
Benchtop environmental chambers are typically designed to be smaller and more affordable than other models, while still providing the same features that ensure a safe operation. These safety features may include temperature alarms, overload protectors, airproof construction of insulation material, over-voltage protection, or automatic shutoff switches.
In addition, they should come with proper maintenance instructions such as cleaning surfaces regularly to avoid dust buildup. Walk-in environmental chambers offer additional safety measures such as double-walled doors with interlock systems for securing the chamber during tests to prevent people from entering an unsafe environment.
The maintenance requirements vary depending on the type of application but can range from periodic checks of electrical components and motors for wear and tear to calibration checks for sensors to maintain accuracy in readings. Ultimately both benchtop and walk-in environmental chambers provide users with necessary safety features while requiring standard maintenance procedures to ensure their optimal performance levels remain consistent over time.
Conclusion
In conclusion, environmental chambers play an important role in the testing and evaluation of various products. Benchtop environmental chambers are compact, space-saving solutions that can be used for most applications requiring temperature and humidity control.
Walk-in environmental chambers offer a larger test area with greater capability to simulate extreme conditions over extended periods. Both types of Environmental Chambers provide accurate results for product durability testing or material aging studies.