The production of alcoholic beverages has been around for centuries, and today alcohol bottle design and labeling is a complex science and art. From the shape of the bottle to the color scheme used on its labels, every element must be carefully considered to create maximum brand recognition and stand out from competitors.
In this article, we will explore how modern technology combined with artistic principles can be used to craft sophisticated designs that capture consumers' attention while still communicating important information about the product. Well also examines some of the regulations surrounding alcohol labeling, as well as current trends in alcohol packaging design.
Finally, will discuss why it's so important for brands to get their designs just right – not only for aesthetic purposes but also for financial success. So join us as we dive into the fascinating world of alcohol bottle design and labeling!
The Science of Alcohol Bottle Design and Labeling
The Science of Alcohol Bottle Design and Labeling is an area that combines creativity with technical expertise. From the shape, size, color palette, logo design, and text chosen for labels – there are a variety of decisions to be made when creating an alcohol bottle's appearance.
Aspects such as ergonomics or material choice also factor into the overall design process. The result is a uniquely crafted product that appeals to consumers while providing important information about its contents.
A key part of designing an effective label is understanding legal requirements related to labeling alcoholic beverages in different jurisdictions. Governments have established laws regarding how the ingredients and nutritional values must be presented on bottles for them to be considered compliant with local regulations.
In addition, manufacturers must ensure their products comply with any relevant trademark or copyright laws according to their country's jurisdiction. From a creative standpoint, brands need to create eye-catching designs that stand out from other competing products on store shelves or online marketplaces.
Many companies enlist professional graphic designers who specialize in designing logos and labels that capture consumer attention while staying within existing legal boundaries set by governments around the world. Additionally, many large corporations use focus groups and surveys during development stages to gauge public opinion before launching new packaging designs into production runs
Creative Solutions to Enhance the Look of Alcohol Bottles
Creative solutions to enhance the look of alcohol bottles are becoming increasingly popular as more and more people are turning away from standard label designs. Whether youre creating a unique beer for a special occasion, designing a custom wine bottle for an anniversary gift, or looking to stand out from the competition with eye-catching spirits packaging, there are plenty of ways to elevate the aesthetic appeal of your product.
From laser etching and engraving techniques that allow for detailed imagery on even the smallest surfaces to using bold colors and creative typography in labeling designs, these strategies can help bring any alcohol bottle design up several notches. There's also room for experimentation when it comes to materials – going beyond glass into wood or plastic could open up new possibilities while still keeping within budget constraints.
With innovative ideas like these at their disposal, those looking to make their mark on the market can ensure that their product stands out on store shelves and in bars alike!
Understanding the Legal Regulations Surrounding Alcohol Packaging
Alcohol packaging and labeling are subject to a variety of legal regulations to protect consumer health and safety. These laws can vary from state to state, so it's important for any company that produces alcoholic beverages to understand the specifics of their local regulations.
In some areas, there are even restrictions on what type of imagery or text may be used on labels. As part of the design process, companies must ensure that all packaging meets these standards before they begin production.
Additionally, certain details need to be printed on every label such as alcohol content and ingredients. Understanding these legal requirements helps designers create aesthetically pleasing products while meeting industry standards.
Innovative Technologies Used for Modernizing Alcohol Bottle Designs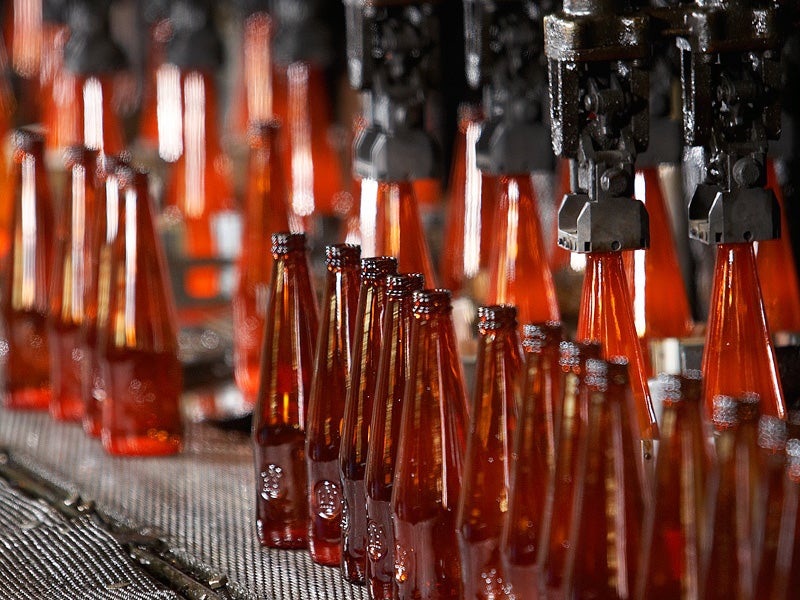 Alcohol bottle designs have come a long way, thanks to innovative technologies like 3D printing and computer-aided design. With these tools, beverage companies can create aesthetically pleasing bottles that attract customers with eye-catching labels, interesting shapes, and unique materials.
From the use of laser engraving for intricate details to creating custom molds for complex shapes, modern alcohol bottle designs do more than just look good on store shelves. They also help brands stand out from their competition by offering products that make a quality statement or reflect a company's values.
Furthermore, advances in technology allow manufacturers to produce higher quality bottles with better sealing capabilities which ensure product safety and freshness over extended periods. As the industry continues to evolve due to new developments in technology and design trends continue to change rapidly, consumers will be presented with evermore creative alcohol packaging options that combine science and aesthetics into one cohesive package.
Conclusion
The Science and Aesthetics Behind Alcohol Bottle Design and Labeling is a fascinating topic that reveals how both science and art are combined to create an attractive product. It's easy to see why bottle design has such a huge impact on sales, as it often invokes feelings of nostalgia or familiarity for the consumer.
The various shapes, colors, sizes, and materials used in alcohol bottles provide information about the product inside; from vodka bottles that feature intricate designs to whiskey tumblers with bold lettering – each label offers clues into what type of beverage lies within. Consumers rely on this visual information when making purchasing decisions to ensure they're buying the best quality products on the market.
Ultimately, through combining science and artistry, designers have created beautiful yet functional alcohol bottle designs that appeal to many different types of consumers – proving just how vital labeling is for any successful business venture.