The car alternator is a device that converts mechanical energy into electrical power. It is an essential component of modern cars, providing the necessary electricity to keep the vehicle running and powering its various accessories.
An alternator works by converting kinetic energy from the spinning motion of its pulley-driven belt system into electric current, which can then be used to run lights, audio systems, and other electronic components in your car. Alternators are also responsible for charging batteries, thereby keeping them ready for use when needed.
This article will provide an overview of how car alternators work and their importance in today's vehicles.
Components of a Car Alternator
A car alternator is an essential component of a vehicle's electrical system. It converts mechanical energy from the moving parts of the engine into electrical power, enabling it to run all other vehicle components such as headlights, audio systems, and air conditioning.
Alternators are typically composed of three main elements: stator coils, rotor assembly, and rectifier bridge. The stator coils are stationary windings that generate a magnetic flux when energized by direct current electricity.
The rotor assembly rotates within the stator field creating voltage in the armature winding which is then passed through diodes or rectifiers located inside the rectifier bridge. This produces an alternating current (AC) which can be used to power various devices around your car including lights, radio, and other electronic accessories. The alternator also contains several supporting parts like bearings and bushings that help maintain these essential components in proper working order for optimal performance and longevity of your vehicle's electrical system.
Furthermore, there may be additional features such as voltage regulators or brushes depending on the make/model/year of your particular automobile for further control over output voltage & current levels produced by the alternator itself.
Operation of a Car Alternator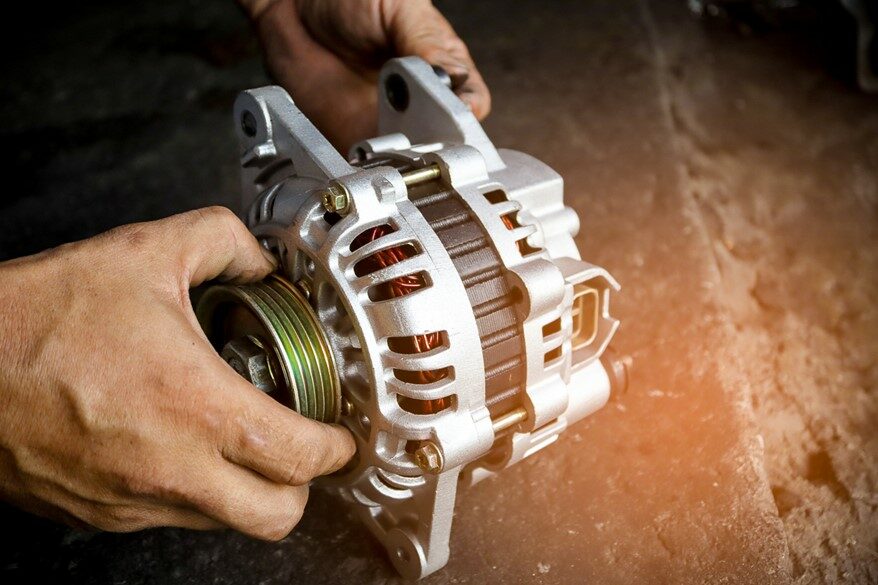 The operation of a car alternator is vital to the success of any vehicle. Alternators are responsible for converting mechanical energy from an engine into electrical power that can be used to power the headlights, infotainment systems, and other crucial parts of a car.
The process begins with the rotation of the crankshaft which is connected to a pulley on the alternator by either a belt or chain. As it rotates, this causes the rotor inside the alternator to spin as well, generating an alternating current (AC) via electromagnetic induction. The AC travels through wires that connect it back into your car's battery where it gets stored until needed again.
From here, when you turn on any device powered by electricity such as lights or music players in your car, they draw their necessary energy from this stored form of electricity created by your alternator's conversion process. It's truly amazing how much power our cars generate using just one component like an alternator!
Advantages and Disadvantages of an Automobile Alternator
The car alternator is a device that converts mechanical energy into electrical power, and it has both advantages and disadvantages. One of the main advantages of an automobile alternator is its ability to generate electricity with minimal noise and vibration.
This makes them suitable for use in vehicles where quiet operation is desired. Additionally, they are highly efficient at converting mechanical energy into electrical power when compared to other forms of generators or motors.
On the negative side, automotive alternators require regular maintenance such as replacing brushes or bearings due to their constant movement during operation which can cause wear over time. Furthermore, they can be expensive to purchase and install due to the complexity involved in wiring them up correctly.
Lastly, if not properly maintained there is a risk that they may fail unexpectedly resulting in costly repairs and potential downtime for the vehicle owner.
Maintenance Requirements for an Automobile Alternator
Maintenance of an automobile alternator is essential for continued efficient operation. For starters, regular visual inspection should be conducted to ensure nothing appears out of the ordinary and that all components are securely attached.
In addition, keeping the alternator cool by making sure there's sufficient airflow around it is important as overheating can cause damage due to increased stress on the moving parts. It is also advisable to replace worn drive belts or pulleys when needed, as well as check for loose connections at terminals and wiring harnesses.
Furthermore, checking the output voltage regularly with a voltmeter will help identify any potential issues before they become larger problems down the road. Finally, a quick cleaning every so often using compressed air or mild detergents can help keep debris away from sensitive areas and prevent unnecessary wear over time.
With proper maintenance practices in place, an automobile alternator should provide reliable electrical power needs for years to come.
Conclusion
The car alternator is an essential part of the modern automobile. It is responsible for converting mechanical energy into electrical power, allowing drivers to operate a variety of electrical components in their vehicles.
The car alternator can be found in virtually all cars and trucks on the road today, and it has become an essential part of any reliable vehicle's performance. Without the car alternator, many of our favorite vehicles would be unable to function properly or safely.
It's clear that the car alternator is an important component for providing us with reliable transportation solutions every day.